Oshawa Clinic Group
Medical Clinic
The Oshawa Clinic Group is developing a new healthcare facility i
n response to the need for a large integrated medical office building to support the growing population of Durham Region.
HH Angus is providing M&E consulting services for this 120,000 ft2 clinic. The building is 4-storeys plus a basement fitout. When complete, the building will include primary care physicians' offices and exam rooms, an urgent care walk-in clinic, and a range of specialist clinicians, including an audiology and hearing aid clinic, a chest pain clinic, chiropractors, dentists, diagnostic imaging, medical supply sales, a retail pharmacy with a compounding area, physiotherapy clinic, and a sleep study clinic with nine beds.
Additional patient services include:
eye wear sales

home respiratory equipment sales and services

phlebotomy and medical test laboratories

sterilization area, and

traditional Chinese medicine clinic.
SERVICES
Mechanical Engineering | Electrical Engineering

---
PROJECT FEATURES
Size: 120,000 ft2 | Status: Completion late 2023

---
LOCATION
Whitby, Ontario
---
KEY SCOPE ELEMENTS
Purpose-built clinic | 4 storeys plus basement fitout | Primary care physician offices, urgent care walk-clinic | multiple specialized labs and clinics
---
Customized design
The project is a purpose-built building in Whitby Ontario.
Renderings courtesy of Lett Architects Inc.
Waypoint Centre for Mental Health Care
Waypoint Chigamik Community Health Hub
The Waypoint Chigamik Mental Health Centre is part of a redevelopment project replacing two older facilities that had been in use in the region since the 1800s.
Project challenges included the requirement that the entire building be completely designed in one stage, rather than proceeding with design packages, as well as delays in funding during the design process which resulted in a requirement for both a base building package and a fit-out package.
To accomplish this, HH Angus coordinated two tender packages and two building permit submissions. Some detailed specifications in each package were interchangeable for the mechanical and electrical tender process. Working with phased schedules ensured that equipment start-up was fully coordinated between the tender packages.
The project faced additional challenges to providing an energy efficient HVAC system due to compliance with CSA Z317.2 and budget restrictions, as well as a small mechanical service space. In order to overcome these challenges, extensive coordination was required throughout the project across all disciplines.
SERVICES
Mechanical Engineering | Electrical Engineering | Lighting Design | ICAT Commissioning

---
PROJECT FEATURES
Size: 40,000 ft2 | DBFM | Fully ducted HVAC system designed to comply with CSA Z317.2 | Status: Completed 2020

---
LOCATION
Midland, Ontario
---
KEY SCOPE ELEMENTS
Building has full back up power with generator sized to accommodate the entire load of the building on loss of utility power conditions
---
Efficient design
Several engineering designs were reviewed by the project team to ensure compliance with the owner's goals and restrictions, while achieving an efficient design.
Customized spaces
The two-storey 40,000 ft2 mental health care facility has amenities for indigenous smudging ceremonies, physiotherapy, conferences, a community kitchen, gathering rooms, and a youth programming space.
Renderings courtesy of Lett Architects Inc.
The Cooperators Canada
Tenant Fitout
"Our people will have first class work environments that support their wellbeing and set the bar in our industry when it comes to workplace design and sustainable construction."

Shawn Fitzgerald, VP Enterprise Procurement/Workplace Services, The Cooperators
HH Angus designed a complete fitout, including mechanical, electrical, ICAT, and emergency backup power design for this 9-storey renovation. Each floor was a mix of open office and collaboration spaces with ancillary serveries. The second floor had a full commercial kitchen and café area.
Among the challenges of the project was the existing building back up power system, which was not configured to support the new equipment our client desired. We worked closely with our client's landlord and building managers to find a solution that provided the client with the ability to operate 24/7 without overloading the existing system's capabilities. Through careful calculations and creative thinking, we were able to reconfigure the existing MCC (motor control centre), and transfer the most crucial items onto the generator system.
Our team worked closely with the return-to-base engineers to relocate new infrastructure within their project scope, in order to ensure work did not need to be duplicated later in our scope. A good example of this was collaborating on new heat pump locations. Since many locations on the floor plates have exposed ceilings, we ensured heat pumps were being located optimally during the back-to-base work, removing the requirement for our project to move them.
When the COVID-19 epidemic became a factor in the late stages of the project, our team quickly adapted to ensure trades were kept accountable and on schedule for project delivery.
SERVICES
Mechanical Engineering | Electrical Engineering | ICAT Design | Audio-Visual Design | Communications Design
---
PROJECT FEATURES
Status: Completed 2020 | 9 storey complete fitout | Each floor a mix of open office and collaboration spaces | Ancillary services – full commercial kitchen and café

---
LOCATION
Regina, Saskatchewan
---
KEY SCOPE ELEMENTS
9 storeys | Equipment retrofit for existing emergency power system | Detailed coordination with interior design team for multiple ceiling arrangements | Participated in value engineering discussion to meet client's needs within available budget
---
TD Bank Group
TD5 ETS CSTS Tenant Fitout
Our team worked with existing structural interferences (extensive/deep structural beams with limited openings) to identify routing for new M&E infrastructure. We also engaged in multi-discipline coordination and planning on site with contractors to find pathways/alternative methods to meet the demands of the project.
HH Angus was engaged to design a full floor fitout in Tower 5 of Toronto's iconic TD Centre. Our scope included mechanical, electrical and lighting design services. The fitout design and construction established a new floor standard for TD Bank spaces going forward.
Our electrical scope included power distribution; open ceiling café lighting design to meet both the client's design choices and base building standards; integration of an all-new wireless lighting control system, including occupancy, daylight, and custom dimming control; life safety systems; and infrastructure for AV & security systems.
The mechanical work consisted of a new HVAC layout to accommodate the new reflected ceiling plan design, which included the open ceiling café design, supplemental cooling systems, plumbing services, and sprinkler modifications to suit the floor layout.
Among the challenges of the project were some structural limitations. Coring restrictions necessitated a power re-design to eliminate floor monuments with cores.
SERVICES
Mechanical Engineering | Electrical Engineering | Lighting Design

---
PROJECT FEATURES
Status: Completed 2019 | Fitout represented a new floor standard for TD Bank | Existing space demolished to floor plate | Structural interferences required creative solutions for routing of services
---
LOCATION
Toronto, Ontario
---
KEY SCOPE ELEMENTS
New HVAC layout | New lighting and control system
---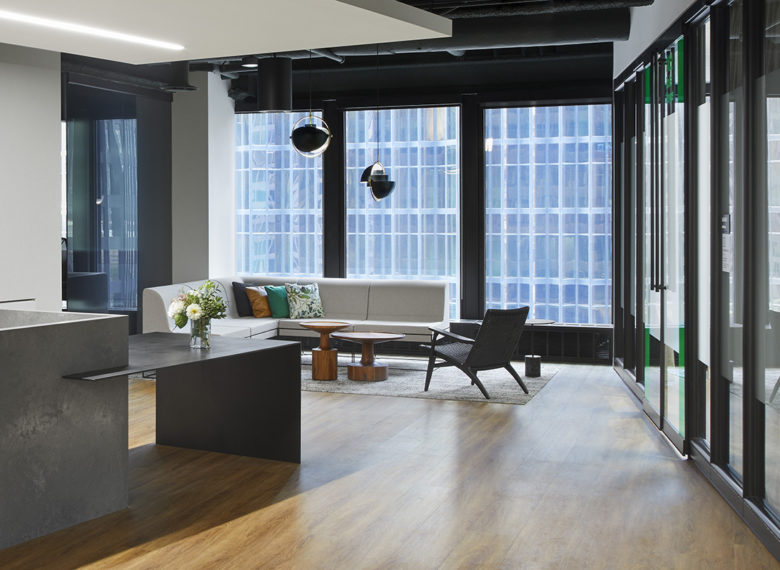 Toronto Public Library
Wychwood Branch
The Wychwood Library is one of Toronto's oldest libraries, built in 1915/16 and listed among Toronto's designated Heritage Properties. The work now underway is required to support delivery of current and future services.
HH Angus is engaged as the mechanical and electrical engineering consultant for the renovation and expansion of the Wychwood Branch of the Toronto Public Library. Following a feasibility study that identified the desired expansion was possible, the facility is expanding from 6,381 ft2 to 15,000 ft2, with mechanical and electrical systems being replaced throughout the facility, including new incoming electrical and communication services.
The project includes interior and exterior renovations to building structure, mechanical and electrical systems and a complete redesign of the floor space. Necessary facility upgrades include replacing flooring, millwork, furniture, elevator and heating, ventilation and air condition (HVAC) systems and equipment, building systems, and building envelope repairs.
The redesign of this heritage facility will create room for approximately 2000 ft2 of seniors' space and innovative space for youth, both of which are needed in the community.
SERVICES
Mechanical Engineering | Electrical Engineering | Lighting Design

---
PROJECT FEATURES
Heritage building | Green roof on expansion
---
LOCATION
Toronto, Ontario
---
KEY SCOPE ELEMENTS
Interior and exterior renovation | 2-storey expansion | Mechanical and electrical systems replaced throughout | New incoming electrical and communication services
---
Celebrating heritage
Key features of the original building were maintained and highlighted through the lighting design, which emphasized the brick exterior and vaulted ceilings in the Great Hall.
Image credits: Shoalts and Zaback Architects Ltd.