Service:
Mechanical Engineering
City of Toronto
Nathan Phillips Square - Indian Residential School
The City of Toronto is revitalizing areas of its landmark Nathan Phillips Square at New City Hall. As part of the improvements, a new Teaching, Learning, Sharing, and Healing space is being designed and constructed to pay homage to Indian Residential School Survivors.
The project consists of upgrades to existing surfaces with all new landscaping, including a water feature, large sculpture and public building.
HH Angus' scope features a full technical audit and inventory report to document all infrastructure and equipment impacted by the project; power supply for new landscape and other LED lighting fixtures; connection of new area drainage to existing storm systems in the parking level; mechanical and electrical services for new 450 ft2 teaching lodge and design of security systems for public spaces and the teaching lodge.
HH Angus is also developing and preparing a commissioning plan for all mechanical and electrical equipment being installed during the project.
One of the interesting challenges of this project is working with multiple stakeholders to ensure the vision of all parties for the project is realized.
SERVICES
Mechanical Engineering | Electrical Engineering | Security Design | IMIT Design | Commissioning

---
PROJECT FEATURES
Status: Ongoing | New sharing and healing space | Teaching lodge | New landscaping
---
LOCATION
Toronto, Ontario
---
KEY SCOPE ELEMENTS
Technical audit | Inventory Report | Power supply | Connection to drainage area in underground parking level | M&E services for new teaching lodge | Design of security systems
---
Peel Regional Police
Headquarters Renovation
The renovation project customized this building for policing and admin functions. Originally, the building had been designed for pharmaceutical research labs and support spaces.
HH Angus was engaged to provide M&E and IMIT consulting engineering for the partial renovation of this existing Peel Regional Police facility. The building has a gross area of ~ 91,000 ft2, with the renovated area totaling ~ 70,000 ft2.
The project involved replacing two boilers and heat pumps, along with the installation of a new make-up air unit on the roof. These service the entire building's hydronic heating, while the new make-up air unit serves the basement area. As well, part of the contract was to upgrade mechanical systems to suit new load, due to changes in office floor layout and function.
Among the challenges of the project was the requirement for multiple site surveys in order to confirm the existing equipment on site. The project was also completed under a very aggressive schedule in order to meet the targeted occupancy date.

SERVICES
Mechanical Engineering | Electrical Engineering | Lighting Design | IMIT Consulting

---
PROJECT FEATURES
Renovated space size: 70,000 ft2 | Status: Completed 2019

---
LOCATION
Peel Region, GTA, Ontario
---
KEY SCOPE ELEMENTS
Extensive mechanical upgrades and replacements | Multiple site surveys to overcome lack of as-built drawings | Fast-track schedule
---
Images courtesy of CS&P Architects Inc.
TD Bank Group
TD5 ETS CSTS Tenant Fitout
Our team worked with existing structural interferences (extensive/deep structural beams with limited openings) to identify routing for new M&E infrastructure. We also engaged in multi-discipline coordination and planning on site with contractors to find pathways/alternative methods to meet the demands of the project.
HH Angus was engaged to design a full floor fitout in Tower 5 of Toronto's iconic TD Centre. Our scope included mechanical, electrical and lighting design services. The fitout design and construction established a new floor standard for TD Bank spaces going forward.
Our electrical scope included power distribution; open ceiling café lighting design to meet both the client's design choices and base building standards; integration of an all-new wireless lighting control system, including occupancy, daylight, and custom dimming control; life safety systems; and infrastructure for AV & security systems.
The mechanical work consisted of a new HVAC layout to accommodate the new reflected ceiling plan design, which included the open ceiling café design, supplemental cooling systems, plumbing services, and sprinkler modifications to suit the floor layout.
Among the challenges of the project were some structural limitations. Coring restrictions necessitated a power re-design to eliminate floor monuments with cores.
SERVICES
Mechanical Engineering | Electrical Engineering | Lighting Design

---
PROJECT FEATURES
Status: Completed 2019 | Fitout represented a new floor standard for TD Bank | Existing space demolished to floor plate | Structural interferences required creative solutions for routing of services
---
LOCATION
Toronto, Ontario
---
KEY SCOPE ELEMENTS
New HVAC layout | New lighting and control system
---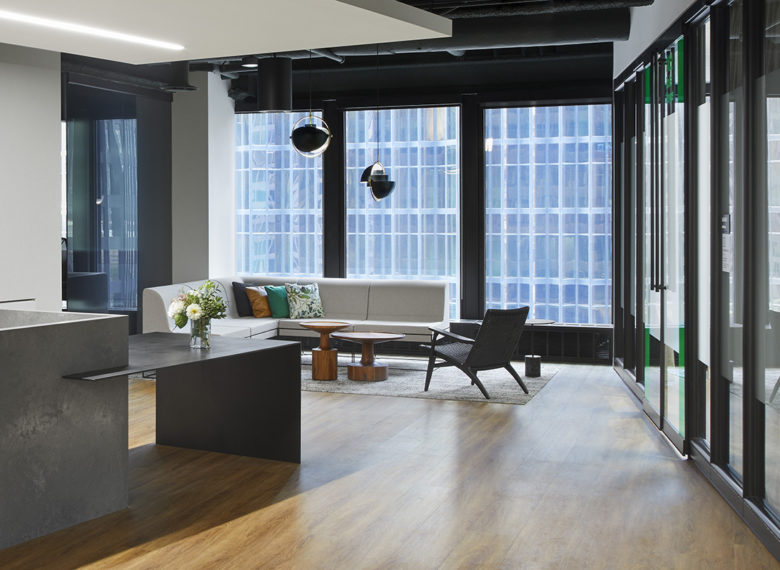 Centre hospitalier de l'Université de Montréal
Temporary Energy Centre
The CHUM temporary energy centre was built to supply Saint-Luc Hospital with steam, cooling, heating and emergency power services during the demolition of the existing energy centre and the construction of the new CHUM hospital and its energy centre. The temporary energy centre operated until commissioning of the new permanent energy centre was completed.
HH Angus was retained to study the equipment and systems required for this installation, and to prepare the phasing plan. We were also responsible for development of the conceptual design and the detailed design, and for engineering services over the course of construction and commissioning of the provisional energy centre.
This project resulted in a very complex power plant constructed in a constrained space on top of the loading dock building. The six spiral tube boilers supplied 860 kPa (125 psig) of steam to each mechanical room serving the existing facilities at Saint-Luc Hospital, the CHUM Research Centre, the Édouard Asselin and André Viallet Pavilions. As well, provision was made for the construction activities for the new facility. The electrical supply was upgraded from 12.5kV to 25kV, with transformers distributed throughout the site.
The steam piping to each building had to be routed so as not to interfere with construction of the massive P3 CHUM mega-hospital. Provisions for future connections were made to reduce interruptions of the steam supply to the CHUM Research Centre.
Working in collaboration with the Constructor, the general contractor and the subcontractors, we were able to apply innovative design approaches to reduce the cost of the energy centre. This was achieved while maintaining the facility's established life cycle parameters, and without compromising technical or operational quality.
A very important aspect of our work was ensuring that the connection of the new temporary energy centre and the disconnection and the decommissioning of the existing energy centre would have no impact on the day-to-day operations of the existing health care facility.
SERVICES
Mechanical Engineering | Electrical Engineering

---
PROJECT FEATURES
Status: Completed 2012 | Disconnection and decommissioning of existing energy centre was achieved with no impact on day to day operations of existing hospital | Innovative design approaches resulted in cost reductions for energy centre
---
LOCATION
Montréal, Québec
---
KEY SCOPE ELEMENTS
P3 | Steam, cooling, heating and emergency power services | A very complex power plant in a constrained space | Routing of steam piping designed to avoid interference with construction of P3 mega hospital
---
CREIT
Bloor-Dundas District Energy Feasibility Study
HH Angus was engaged to conduct a feasibility study for a Low Carbon District Energy Plant serving a new, three million square foot mixed use residential and commercial development along Bloor Street in Toronto.
The full development is being implemented in several stages over ten years. HH Angus provided Prime Consultant and Mechanical and Electrical Engineering services, and developed a conceptual framework for the study.
The study considered a combination of traditional and renewable energy sources to provide heating and cooling, reviewing a range of options that included the following:
Condensing hot water boilers, efficiency up to 90-95%

Centrifugal water-cooled magnetic bearing chillers

Water source heat pumps (heat recovery chillers) to provide simultaneous cooling and heating

Air source heat pumps to provide simultaneous cooling and heating

Ground source heat pump system

Ambient loop system

Sewer heat recovery system

Combined Heat & Power (CHP) system to generate power using a gas-fired generator and to provide heat using waste engine heat, with overall generator efficiency up to 80%. CHP can be used as backup power source and to reduce energy cost during periods of peak cooling and electrical demand.
HH Angus conducted calculations of estimated heating, cooling and electrical loads, plus energy consumption for future development, establishing options for the arrangement of the District Energy plant, including provision for expansion to provide heating and cooling to future developments in the neighbourhood.
Our study scope also included tentative District Energy plant layout and area requirements, capital budget, operating costs and NPV estimates for each option, as well as analysis of results and corresponding recommendations.
SERVICES
Prime Consultant | Mechanical Engineering | Electrical Engineering

---
PROJECT FEATURES
Size: Low carbon district energy study | Due diligence engineering report | Status: Completed 2018

---
LOCATION
Toronto, Ontario
---
KEY SCOPE ELEMENTS
Assessment of district energy plant designs to serve 3 million ft2 of mixed use development | Calculation of estimated heating, cooling and electrical loads and energy consumption for future development | Analysis of results and corresponding recommendations for optimal design | Consideration of traditional and renewable energy sources
---