"The Green Council [tenant representatives] has made it clear, through a commitment to action, that sustainability is a core value of TD Centre tenants."

David Hoffman, then-General Manager. TD Centre
At the TD Centre's iconic towers in downtown Toronto, TD Bank's Living Roof offers both environmental benefits and some much-needed green relief from the usual hardscape views had by occupants of the Centre's towers. It covers 22,000 ft2 and is planted with creek sedge grasses, a hardy semi-evergreen native species tough enough to survive the extremes of Toronto's climate. Annual energy savings from the green roof are approximately $23,000. This is achieved by reducing summer cooling and winter heat loss by 25%.
HH Angus provided mechanical and electrical engineering for the green roof installation and irrigation system, as well as the project's preliminary Feasibility Study. To avoid over-watering, the irrigation system features a sensor that shuts down the irrigation system when it rains. This sensor also reduces irrigation when the water received during previous rainfalls or irrigation has not yet evaporated.
In order to evaluate the requirements for mechanical and electrical design for the irrigation system, the ceiling plenum for the single story building below had to be surveyed. The storm water drainage system was original and would need modification and updating. The existing plumbing was modified to allow connection of the new irrigation.
Installation of dedicated electrical circuits and automated controls was required in order to operate the self-draining irrigation system. The controls were ceiling mounted with remote computer access. Rain spray heads, valves, head sensors, pattern nozzles, valve boxes, and stainless roof drains were incorporated.
Before the design could be executed, rainwater calculations were carried out based on Environment Canada data, along with spreadsheets detailing storm water run-off. These calculations assisted in sizing the storm water piping and locating roof drains and spray nozzles.
A roof leak detection system was also designed, along with a new soil pipe vent stack through the Pavilion roof, and a gooseneck conduit for rooftop wiring. A new replacement filter rack was added to the roof air vents.
SERVICES
Feasibility Study Plumbing Design | Mechanical Engineering | Electrical Engineering

---
PROJECT FEATURES
Size: 22,000 ft2 | Status: Completed 2015 | Annual energy savings through reduction in summer cooling requirements and in winter heat loss

---
LOCATION
Toronto, Ontario
---
KEY SCOPE ELEMENTS
Feasibility study | Rainwater calculations | Plumbing design with supporting mechanical and electrical design and engineering | Roof leak detection system
---
Sustainable
design
TD Bank's Living Roof represents tenant values and is a bold expression of collaboration in support of environmental stewardship
Honouring the design
The green roof's grid pattern mimics Mies van der Rohe's original design for the pavilion roof. This was done to respect the 'designated heritage site' aspect of the TD Centre.
Images courtesy of Flynn Canada
St. Michael's Hospital
Barlo MS Centre
Canada has the highest rate of multiple sclerosis in the world; in fact, the disease is known internationally as 'Canada's Disease'. St. Michael's Hospital in Toronto is one of North America's busiest MS centres. It has been caring for people with MS since 1981, and now treats 7,000 patients
.
The new Barlo MS Centre will offer one-stop care, bringing together neurologists, nurses, social workers, neuropsychologists, physiotherapists, occupational therapists and speech therapists in a world-leading treatment and research centre for multiple sclerosis. The 25,000 ft2 clinic will be constructed on the top two floors of the new Peter Gilgan Patient Care Tower.
HH Angus' mechanical scope for the fitout of the shelled space includes ventilation, plumbing, medical gas, heating & fire protection, and controls. Our electrical scope covers power, lighting, communications and security.
Unique aspects of the project design to date include: presentation to the client of a number of ventilation strategies to address the shortage of air supply available to the design, and a reworked ventilation strategy under a very aggressive schedule to redistribute and extend air to the clinic from an existing air handling unit that was previously feeding another floor.
Some of the project challenges include:
The addition of a compounding pharmacy late in the design, for which additional requirements had to be vetted to meet NAPRA. The team took advantage of early works to investigate available shaft space for running new biological exhaust to the roof.

Design activities must be scheduled alongside testing and commissioning still underway for the main Patient Care Tower.

Ceiling construction and new structural constraints limited accessibility. The team is using 3D imaging and Revit to coordinate all ceiling elements requiring accessibility, in order to integrate services into areas where wooden slatted ceilings are being used.

The team took advantage of early works to coordinate structural openings for future ventilation in order to limit ceiling interference for the fitout design.
SERVICES
Mechanical Engineering | Electrical Engineering | Lighting | Plumbing | Communications Systems | Security Systems
---
PROJECT FEATURES
Size: 25,000 ft2 | Status: Completion 2021
---
LOCATION
Toronto, Ontario
---
KEY SCOPE ELEMENTS
Two floor clinic fitout | Variety of room types and functions | Custom smoke venting and fire alarm zoning to accommodate feature staircase
---
Achieving the design vision
We worked closely with the architect to modify the existing fire alarm zoning and smoke venting strategy in order to accommodate a new mezzanine on Level 17. This will allow the architect to achieve their design vision for the feature staircase without the use of smoke baffles.
Variety of functions
The space will include a variety of room types, including exam rooms, gym, medical infusion centre, group physiotherapy studio, auditorium, cognitive lab and a pharmacy.
— Artistic renderings courtesy of Hariri Pontarini Architects
Mirvish Village
Central Utility Plant
Mirvish Village is reimagining a 4.5 acre section of Toronto's Bloor/Bathurst neighbourhood, including the former site of the the iconic Honest Ed's store, a beloved Toronto landmark. Featuring four high-rise, one low-rise and twelve heritage buildings, the mixed-use site will be home to more than 2000 residents.
HH Angus is working with Creative Energy Developments to provide mechanical and electrical engineering services for the Mirvish Village central utility plant, which includes a combined heat and power plant (CHP), a boiler plant, and a cooling plant. The CHP plant will include an 800 KW generator set with auxiliaries and heat recovery system. The generator is expected to run continuously to provide power to the complex.
Heat recovery consists of two systems: High Temperature to provide heat to buildings, and Low Temperature to provide additional heating for a winter snow melting system and swimming pool heating. The boiler plant will include installation of four condensing hot water boilers, with the option for two additional boilers in future. All boilers will have an output of 3.1 MW.
The cooling plant will include installation of two water-cooled chillers, operating at 1200 tons each. One chiller is a magnetic bearing chiller with variable frequency drive (VFD), and the other is a centrifugal chiller with VFD. As well, two cooling towers at 1200 tons each will be installed on the roof.
Central distribution piping from the plant will provide hot water and chilled water to multiple energy transfer stations, with heating, cooling, and domestic hot water heat exchanges for each building within the complex.
The photo-voltaic solar system will have a capacity of 103KW, 480V. HH Angus is providing direction for locating the installation, coordinating with the PV supplier for modeling the panel direction and angle for optimal PV output, developing technical connection requirements with Toronto Hydro, and identifying requirements for parallel generation with the central utility plant.
We also assisted the client with a successful incentive funding application. Ultimately, the incentive was not applicable due to schedule changes, which meant the project could not meet the incentive deadline.
Renderings courtesy of Westbank Corp.
SERVICES
Mechanical Engineering | Electrical Engineering
---
PROJECT FEATURES
Status: Completion 2022

---
LOCATION
Toronto, Ontario
---
KEY SCOPE ELEMENTS
Combined Heat and Power Plant | Boiler Plant | Cooling Plant | High Temperature and Low Temperature Heat Recovery Systems | Photo Voltaic System
---
Metering Strategies
Our scope also included developing thermal and electrical metering strategies within a microgrid system, design of operation for gas-fired emergency generators in electrical peak shaving mode, and the design of a roof mounted PV solar system.
Sustainable design
Mirvish Village is being designed to meet LEED® Platinum ND standards, and will feature sustainable transportation options.
Town of Oakville
Fire Hall #8
Integrated Project Delivery is the procurement model for the design and construction of this project, a methodology that, in our experience, provides excellent results for our clients, as well as fostering greater collaboration within the project team.
Oakville's new fire station and amenities are designed to serve a growing population. Targeting LEED Silver certification, the new 1.5 storey facility will be almost fully constructed from glue laminated and cross laminated timber (CLT). CLT is a relatively new construction material in North America; CLT panels/walls are fabricated off site, where all M&E openings and penetrations are cut out, and are subsequently assembled on site. This approach requires extremely close coordination between the structural designers and the M&E designers since, unlike drywall, wood openings cannot be adjusted once cut. The modular construction approach will also help meet the aggressive schedule for this project.
Ironically, the new fire station will be clad in charred wood. Shou Sugi Ban charred siding, made from logs reclaimed from Ontario and Quebec waterways, offers many safety and operational advantages: it is ultra-low maintenance, naturally resistant to insects, moisture and rot, has proven fire resistance qualities, and is sun and water repellent. At end of life, the siding can be disposed of safely, without environmental damage.
HH Angus' mechanical scope includes variable refrigerant flow, energy recovery ventilators, infrared tube heaters, and vehicle exhaust system. Electrical systems include natural gas backup generator, daylight harvesting sensors, provision for solar PV, CCTV and card access, and fire locution (radio system for 911 dispatch). Special provisions were made to allow speakers to be installed strategically throughout the building to support the locution/fire alerting system, with additional provisions for the radio antenna.
The fire hall floor plan consists of three fire truck bays - two drive-through and one back-in bay, gymnasium, dormitory, kitchen, offices, meeting rooms, IT room, and many specialized service spaces. Fire Hall #8 will be a designated "post disaster building" when operational; hence, the M&E systems specified are very robust.
SERVICES

Mechanical Engineering | Electrical Engineering | Lighting Design | Communications Design | Security Design
---
PROJECT FEATURES
Status: Completion 2020 | 11,500 ft2 | Integrated Project Delivery | Mass timber construction | Targeting LEED Silver | Designated 'post disaster' building
---
LOCATION
Oakville, Ontario
---
KEY SCOPE ELEMENTS

Net Zero provisions for future conversion, with high efficiency M&E | Shou Sugi Ban charred wood cladding | Provision for future photo voltaic installation | locution/fire alerting system
---
Net Zero Conversion
The owner requested highly efficient M&E systems that provide for future Net Zero conversion. The Fire Hall is designed to accommodate a 40kW Solar PV system to offset and displace energy usage.
Site Challenges
Although it's a new facility, the Fire Hall is being built adjacent to an existing EMS Station and shares the road entrance and utilities. This presented a challenge in planning construction, service entrances and operations. Our team had to ensure that, during both construction and when operational, the Fire Hall will not impede EMS' emergency response process.
.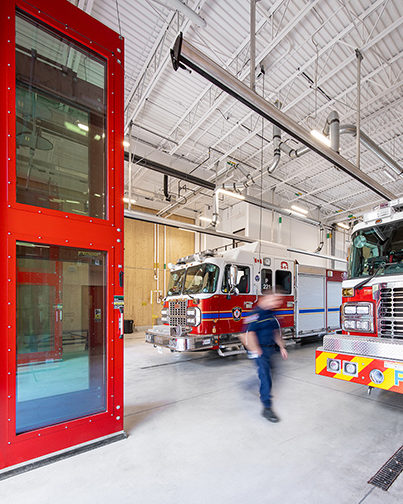 Interior Health Authority
Royal Inland Hospital Patient Care Tower
The new Patient Care Tower (PCT) being constructed on the campus of the Royal Inland Hospital in Kamloops, BC will include 13 operating suites and patient floors for mental health and medical/surgical beds, perinatal centre, labour and delivery rooms, and neonatal intensive care unit.
At 290,625 ft2 (gross floor area) of clinical, administrative and support spaces, the new PCT is as a nine-storey building with rooftop helipad and two levels of underground parking, plus new surface parking. Occupancy is anticipated for 2022.
HH Angus is providing mechanical electrical consulting engineering services, with design targeting LEED Gold certification. The DBFM project be in two phases: Phase 1 is the design and construction of the PCT; Phase 2, slated for 2024, will see extensive renovation and expansion to the existing emergency department, pediatrics, post-anaesthetic recovery and morgue.
The mechanical design for the tower includes energy efficient heating and cooling systems with a variety of heat recovery features. The ventilation design includes redundant capability, outbreak control as well as future flexibility.
New electrical services include 25kV transformers powering the campus in its entirety. New generators will provide redundancy and resiliency to the patient care tower.
SERVICES
Mechanical Engineering | Electrical Engineering | Lighting Design

---
PROJECT FEATURES
Size: 290,625 ft2 | Status: Completion 2022
---
LOCATION
Kamloops, British Columbia
---
KEY SCOPE ELEMENTS
Initiating P3 9-storey patient care tower |Helipad | Energy efficient heating and cooling | Heat recovery | Persuing LEED Gold

---
Integrated new and old
Integration with the existing hospital systems is a significant challenge and requires numerous connections.
Best in Class
The Royal Inland Hospital Project was awarded 2018 North American Social Infrastructure Deal of the Year, recognizing it as a 'best in class' transaction in the international and energy sectors.